Blog
11 Best Summer Party Food Ideas You Can Prepare at Home
Summer is the classic outdoor party season. Time to fire up the grill and light the tiki torches! The time has never been better to bring matters home and enjoy the company of your friends and family on your turf.
Let's face it. Isn't it much more comfortable than dining out these days?
There are so many ways you can make your get-together something special. You can do that those restaurants can't make it more of an experience with lighting, themes, and your menu choice. Cooking outside will also make the clean-up easier. If you have a grill, you have an outdoor kitchen.
Let's start with the food.
Best Summer Party Food Ideas
1. Make it Easy
The essential element for any summer party is finger food. However, that doesn't have to mean a lot of cooking and prep. Keep it simple with a well-stocked charcuterie board.
Plan on serving three to five cheeses. Mix up the textures with a hard cheese, semisoft, and perhaps a spread. Add some fruit and nuts to make it enjoyable. We also like to add some pickled foods, such as olives, cornichons, or peppadew peppers. Offer a selection of meats like prosciutto, salami, or serrano.
We like to pick a culinary destination with foods from that place. Add some bread and mustard for a well-rounded plate. We suggest serving a glass of wine from the region to make it authentic. When in doubt, there's always a rose.
2. Say it with Appetizers
You don't have to make elaborate dishes for a summer party. Appetizers can strike the right note. Many vegetables lend themselves well to simple preparations. Cherry tomatoes stuffed with flavored cream cheese is about as easy as it gets.
Break out the spiralizer to create ribbons of veggies like carrots, zucchini, and yellow squash. Wrap them up in cylinders to look like a plate of roses. Serve with a light vinaigrette on the side. You can also roll them around dollops of cream cheese or another flavorful spread. You can plate them using fancy toothpicks for an attractive presentation.
3. Make it a Roll
Nothing says luxury quite like lobster. One of the best things about it is that it's so easy to prepare. If you can boil water, you have the makings for delicious lobster recipes.
If you're going to cook Maine lobster, it's only natural you'd grab for the quintessential New England recipe—the lobster roll!
Purists in the Maine camp hold to the traditional recipe with mayonnaise, some chopped celery, salt, and pepper. The sweet flavor of the lobster is the star attraction.
If you ask someone from Connecticut, they'll tell you to pass on the mayo and reach for the melted butter, instead. After all, it's all about the lobster.
We say, serve the rolls both ways and let your guests decide.
4. Bring the Beach Home
Basking in the sun all day, followed by a dip in the water is about as beachy as it gets. Why not bring it home with a backyard clambake?
Add the seafood of your choice. We like a mix of lobster, shrimp, and of course, clams. You can make it on your grill with a large cookie sheet and seaweed to steam the yummy briny taste of the sea into the food. Add some potatoes and corn on the cob, and you have the essentials covered.
Serve the feast with lots of butter for dipping, along with some cold beverage. Top a table with newspapers for an easy clean-up afterward. We like to play our favorite beach music to set the mood for dancing!
5. Skewer it
Kabobs are a fun way to prepare a whole meal with an even easier way to cook it. However, it doesn't have to be the same old cube of meat, onion slice, and pepper. Why not get creative and give them a theme?
How about Hawaiian chicken kabobs complete with fresh-cut pineapple and roasted red pepper?
Have you ever had your favorite Chinese takeout dish on a stick like beef and broccoli?
Bring home the taste of New Orleans with gumbo on a stick, alternating chicken, sausage, and shrimp.
For dessert, try a deconstructed strawberry shortcake. Put pieces of angel food cake with whole berries on a bamboo skewer that you've soaked in water. Serve with chocolate sauce and whipped cream for a decadent treat. Take it to the next level with a banana split. Swap out the shortcake for cut banana and pineapple chunks. Grill until the fruits are caramelized with visible char marks. Yummy!
6. Have a Pizza Party
Grilled pizza is surprisingly easy to make. Flatten out pieces of dough and put on a hot barbecue for a few minutes to cook. Remove with a pizza peel and flip them over to dress the top off the grill. Place them back on it to finish cooking the other side.
Put out an assortment of your favorite pizza toppings to let your guests create their own pie. Think out of the box with ones like sun-dried tomatoes, smoked salmon, or sliced figs. Make sure there's plenty of cheese! Try some different kinds to mix it up, such as Fontina, Gorgonzola, or Chevre. Drizzle with truffle oil will make it gourmet.
7. Have a Wine Tasting
Skip the virtual wine tastings and host one yourself. Pick a varietal and have each of your guests bring a bottle of their favorites to split the cost. Serve finger foods to work on your food pairing skills. Go with classic pairings, like Cabernet Sauvignon with beef or fried chicken with Champagne. Yes, it's a thing!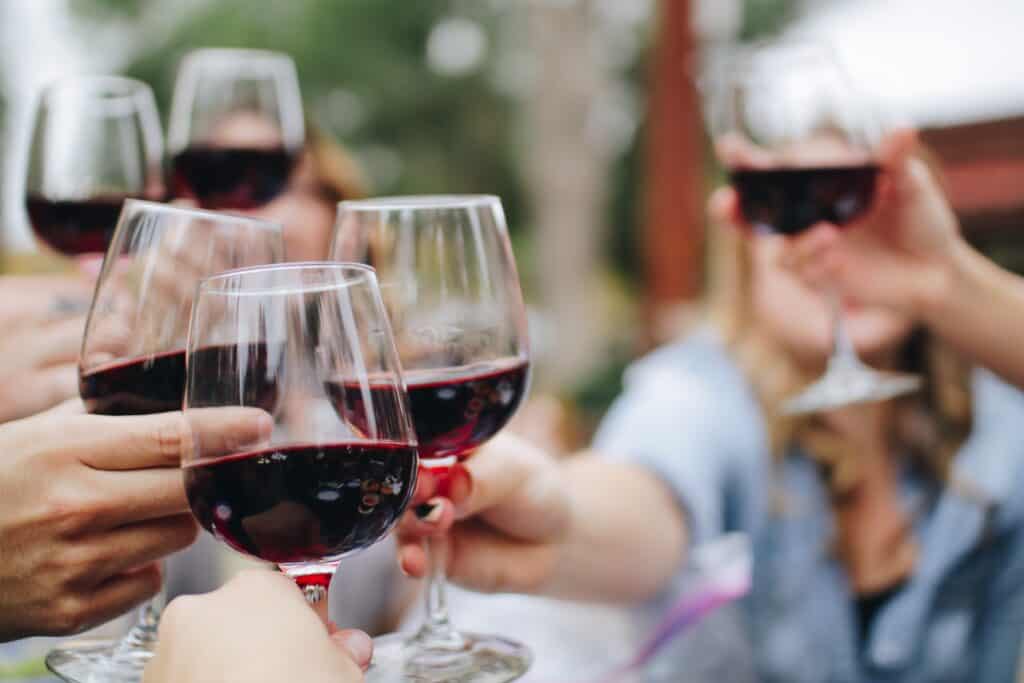 To make it more fun, do a blind tasting with one person pouring the concealed bottles. Hand out tasting notes so that everyone can record their impression. Then, compare and choose the best one. Make a special treat for the winner, like chocolate-dipped strawberries.
8. Go Tapas
Tapas or small plates are an ideal summer party food. Many recipes are surprisingly simple to make, too. Garlic shrimp is a perennial classic. Just sauté some shrimp in good Spanish olive oil with some sliced cloves. Serve on toothpicks with plenty of bread.
Another favorite is tomato bread. Rub a halved garlic clove on slices of a toasted baguette and top with grated tomato, a drizzle of olive oil, and a sprinkling of a quality finishing salt. That's it! Be sure to have a pitcher of Sangria with the meal or a fino Sherry.
9. Make it Fruity
Fruits are an excellent party favor because of their gorgeous array of colors. Have them do double-duty as both finger food and fun serving containers. Think of a pineapple boat, filled with fresh chunks and berries for a stunning presentation.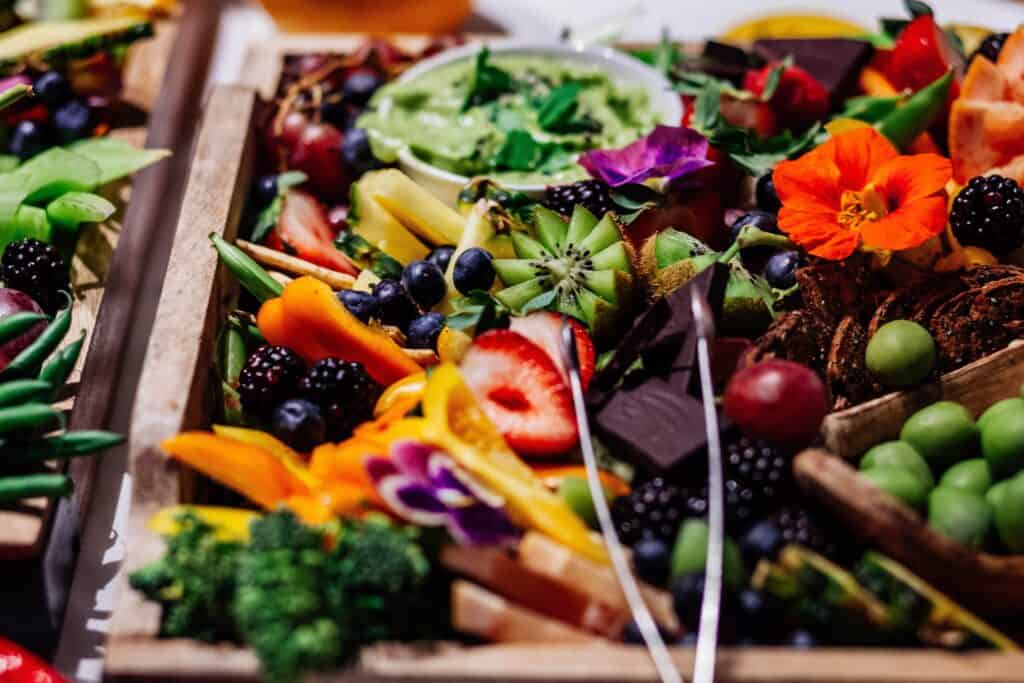 Hollow out a watermelon and use it for a beverage. Serve the melon in a salad with mint and feta. Also, freeze some with blueberries for ice cubes to keep your drink cold. We like to freeze some cubes with edible flowers to add to the effect.
10. Go Hawaiian
Bring the islands home by creating a memorable summer party with a luau. Serve authentic foods like poke, Kalbi ribs, or Spam musubi. Yes, we said Spam. Think of it like sushi without the tuna or salmon. Drizzle some soy sauce on it to be like one of the locals. It'll have your guests talking.
Serve with your favorite tropical cocktail with an umbrella. Did anyone say, Mai Tai? Grilled pineapple is divine, sprinkled with coconut, of course! It makes a fantastic dessert. Complete the experience with Hawaiian music and maybe some grass skirts if anyone feels doing the hula.
11. Make it a Date Night
No one says you have to invite a lot of people to call it a party. Make it a special night for you and your significant other. Hang a string of Edison bulbs to make it romantic. Bust out the fine china and silver, instead of paper plates. You can keep your attention on your companion by picking a recipe you can prepare ahead of time, like quiche or a summer salad.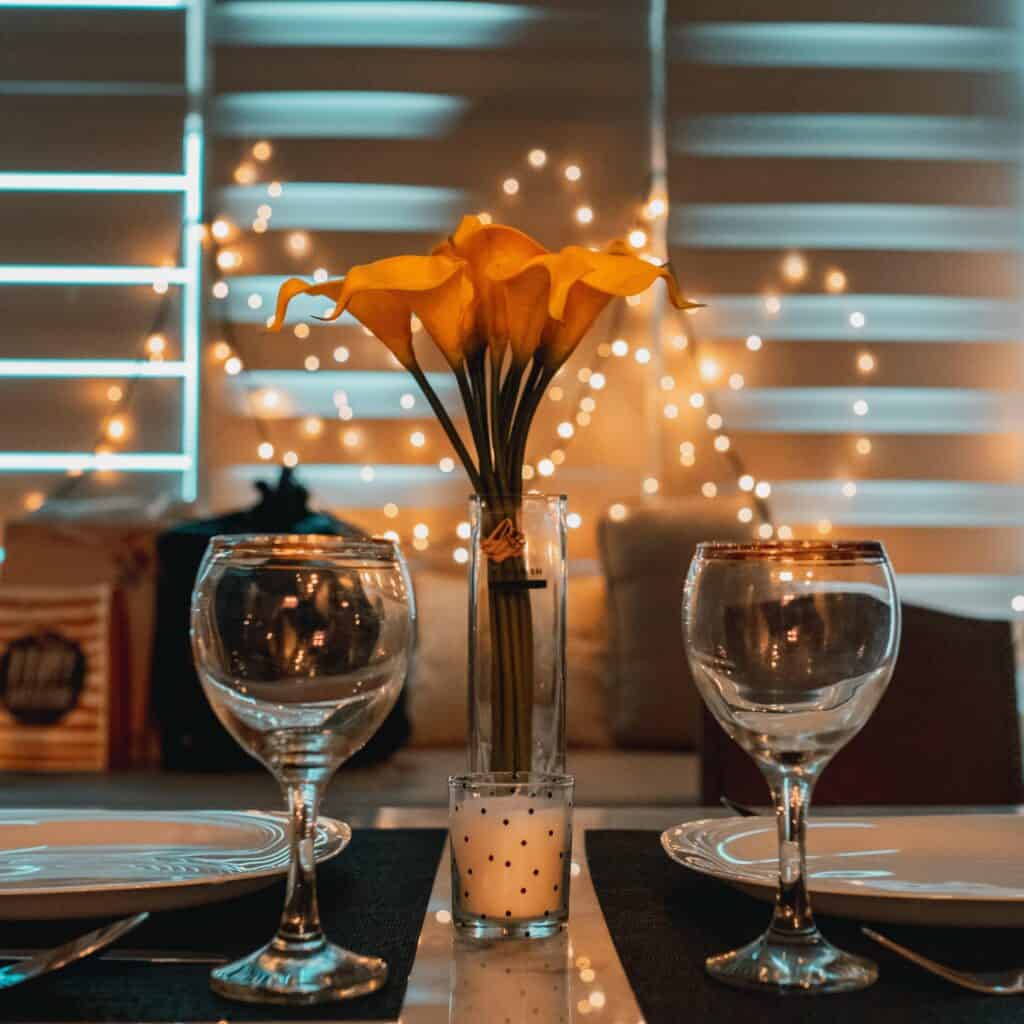 Lobster is always an excellent choice. It's terrific on the grill. You can even kick it up a notch with steak for an elegant surf and turf dinner. Luckily, both cook up quickly. Skip the bottled dressings and whip up a homemade vinaigrette with good-quality balsamic vinegar. Add some mood music, and it's a date.
The only other thing you need is a bottle of bubbly.
Final Thoughts
Taking the party outside is an excellent way to enjoy summer on its terms. Even a simple spread will seem special when it's served alfresco. Make sure you have enough chairs for everyone, suitable lighting, and plenty of napkins. After all, the setting is just as important as the food. It adds to the experience in a way that a restaurant can't match.
Remember that you don't need a reason to celebrate the season. The pleasure of a good company is all that's necessary for a summer party. Make it fun with creative menus and a theme to create an evening that is buzzworthy.