Blog
15 Mind-Blowing One Year Dating Anniversary Gifts for Him 2021
Why celebrating a dating anniversary is so much important? Dates are the events where couples begin their journey. The date is the day that makes him close to you. He earns your trust and love on the day of the first date. So the dating anniversary day needs to be celebrated to regain the memories of the first date. While celebrating them, insert some dating anniversary gift ideas to twice the fun of the anniversary. Check out why do people renew their vows.
"Being in love with you makes every morning worth getting up for." – Unknown
Are you going to celebrate your 1st dating anniversary? It was special because this is the first memorizing ceremony you both going to celebrate together. While planning to celebrate it, do something that can "tinkle" the past for those moments.
For those seeking such ideas, we suggest some 1st year dating anniversary ideas for celebrations and One Year Dating Anniversary Gifts for Him. If you are looking for a wedding anniversary, here are your wedding anniversary gifts for him ideas.
1st Year Dating Anniversary Ideas
1. Revisit Your 1st Date Spot
Revisiting the spot where you both meet first is the best way to obtain the reason for the dating ceremony-regaining memories. It will make him realize that you didn't forget anything about him on that day. That grew a better understanding of your relationship. It's a beautiful dating anniversary gift idea to execute.
2. Go on a Hangout
Hangout somewhere, he wants to go and celebrate the dating ceremony here. If you are on a budget, plan somewhere a natural place for your trip that won't cost you entrance.
3. Spent Movie Time Together
Go to the nearest theatre in town for a movie, or watch a film with popcorns at home together. Movies are the best 1st anniversary ideas to spent time together.
4. Cook Together Your Favorite Food
Cook together want you to want in the home instead of approaching the hotel. Spending your precious time together is the primary goal of the dating anniversary.
5. Do Things with Cuddles
Bathing is a regular thing, but what about a bubble bath together on dating anniversary? A candlelight dinner on home with your favorite drink, giving each other some massages; play some nasty games together. These kinda dating anniversary ideas can rock your anniversary.
Also Read: 500+ Adorable And Cute Names To Call Your Girlfriend
One Year Dating Anniversary Gifts for Him
The gifts you present for him on dating anniversaries are needed to be remembering the past year after you're dating. That's not necessary to present gifts. But if you want to do something more to him, do them with these. There are some creative one year anniversary gifts for boyfriend.
1. Custom Lapel Pins
Wearing lapel pins is an attitude. There are tons of meaningful and impressive moments in the past year between you and your boyfriend. Movie, travel, dinner time, and when he says 'Love You'. Why not make them into daily accessories. Comes with hard, soft, sandblast, 3D, antique, and more types, these beautifully refined lapel pins are perfect for long-lasting remembrance and decoration, put on jackets, hats, bags, and even pets clothes. If you are looking for the most unique anniversary gift that suits any possible theme, turn your ideas into reality at GS-JJ.
2. Mamre Moon Ambient Light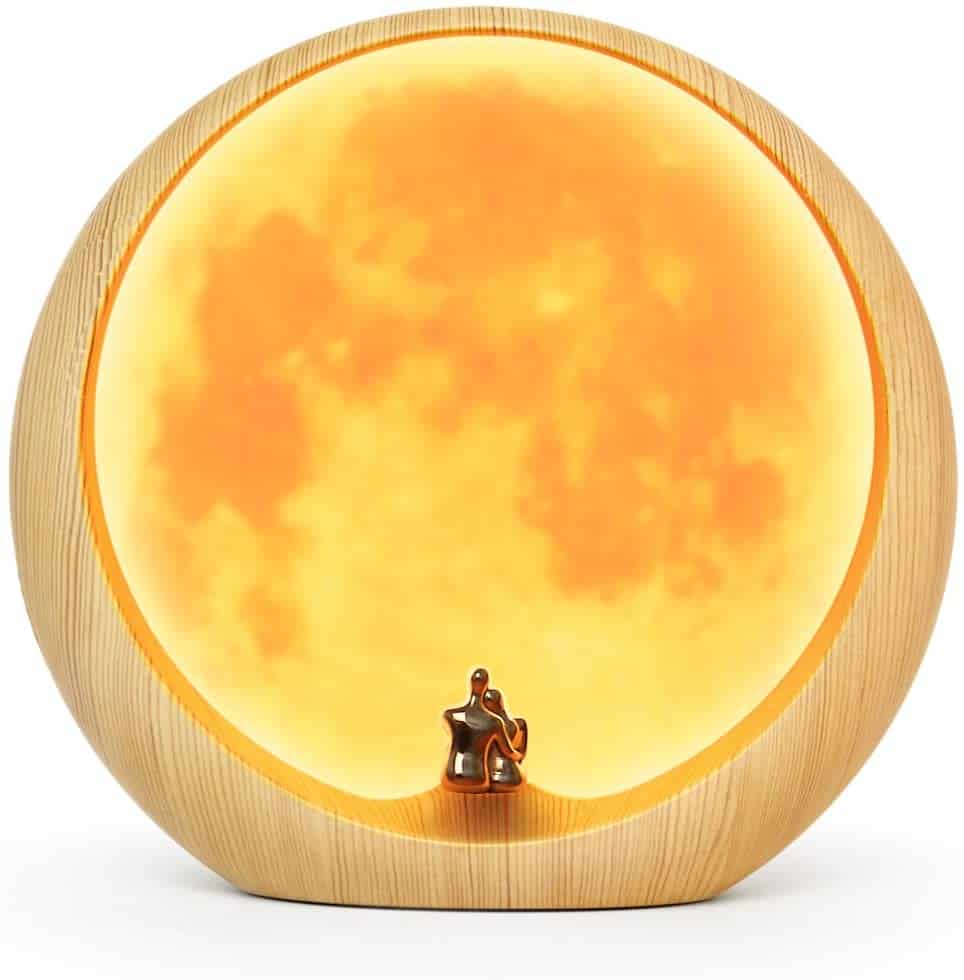 Made with wooden shells, velour, and other materials, mamre moon ambient light is the best-personalized dating gifts you can present as one year dating anniversary gifts for him. This ambient light has a touch sensor, USB port, and 3 light adjustment levels. It can be placed anywhere on your table or shelf with a size of 7.48 x 3.35 x 8.27 inches. You can customize the letterings on it at your desire. This is going to be perfect for one year anniversary gifts for boyfriend.
3. Real Bamboo Wooden I Love You Cards
Made with real quality bamboo, these greeting cards come from the ancestors of the papers. Bamboo is one of the raw materials of the paper; thus, it indicates how much raw and hard your love is. Sometimes speech of words can be fade away from the mind, but these words from the cards resemble your love while each time he watches that. Come with the size 5.90*4.33 of bamboo, these can long last for another some anniversaries. Present these kinda unique things to your boyfriend on dating anniversary.
4. Cassette Business Card Case
These mixtape looking business card cases never forget to give the nostalgic feels to the holder. It can attract people's attention toward your boyfriend while he took out his credit card each time. Made with American walnut, the build quality was perfect for daily use. It will be a perfect anniversary gift idea for this year. Flip the magnet lid to turn the card case into a desktop stand. It's going to the ideal gift for the boyfriends and husbands from the '80s and '90s. It looks accurately like an antique mixtape, it's going to a unique gift.
5. 1st Anniversary Hip Flask
For those looking one year dating anniversary gifts for him, this 1st-anniversary hip flask is an adorable gift for them. Engraved as 1st anniversary, how much anniversaries may come but, still, this gift makes them remember the 1st anniversary. Made with stainless steel, it more resembles a wooden flask. The built quality was perfect for daily rough use. Stamped with this quote
"I Still Love You As The Day We Met"
It resembles your love for him. It was portable to anywhere that means he roams with your love on his hip. Perfect gift for dating anniversary.
6. Couple Pendant Necklace for Him
These necklaces come with the "I Love You" messages and heart-shaped pendant, both necklaces have half of the pieces. This heart pendant resembles that you gave your half of the heart to him. The rope length was 60cm for men and 50cm for women. Made with stainless steel, it long last as your love. If you want, the seller engraves your name on these necklaces. It's going to the perfect gift for your loved ones.
7. Romantic Couple Reclining on Bench Bronze Sculpture
Handcrafted with the sand casting method, this bronze sculpture is going to the perfect gift for couples who are going to celebrate a wedding anniversary. It resembles the love and romance of the pair and can decorate your tables, shelf. The 7* 6-inch dimension gave the freedom to showcase the sculpture anywhere you want. It's going to a perfect reminder for him to remind you every time while seeing this. If you are looking for one year dating anniversary gifts for him, this bronze sculpture going to the perfect gift for you.
8. Vintage Mechanical Pocket Watch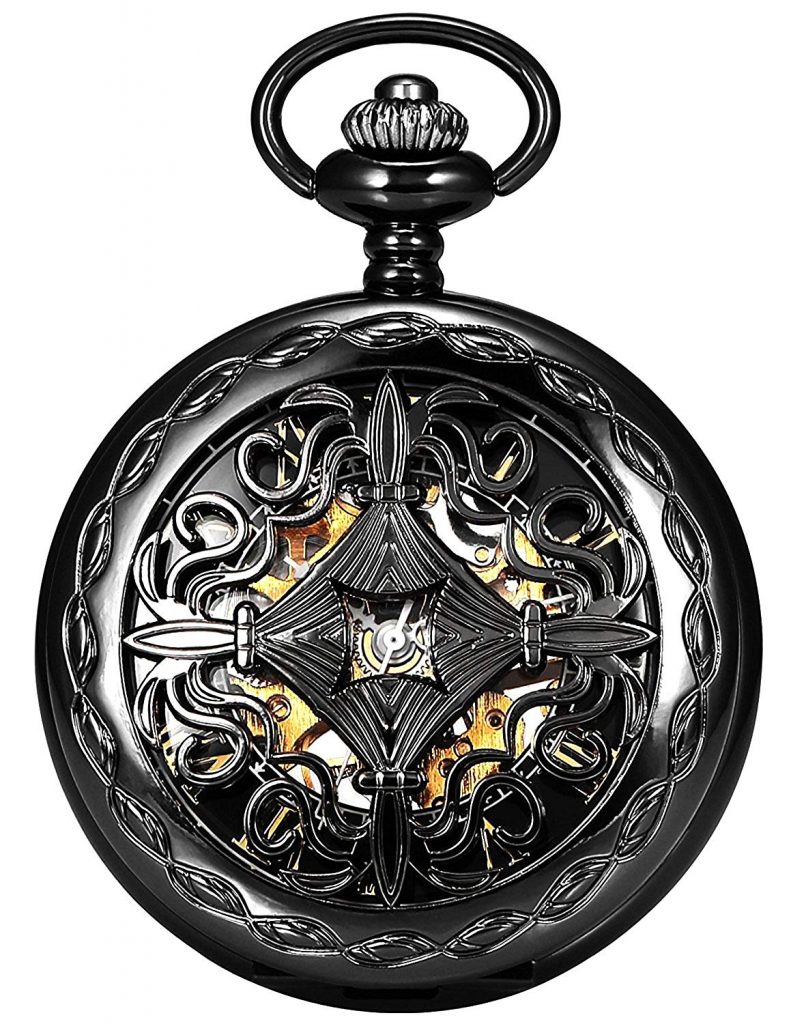 Comes with an antique look, this vintage mechanical pocket watch is going to be the unique gift for the men from their loved women. The skeleton design gives insights into every moment of the watch, and roman numerical added to the watch to provide a much more unique look.
It doesn't need a battery for power. It comes with a pocket watch chain, this complete set of pocket watch that everymen need. The black color gives a more elegant look; if you want more color options, the seller provides it. A perfect gift for the dating anniversary.
9. Love Language: Card Game
If you want a first dating gift or the first-anniversary dating gift, this love language card game is the perfect gift you are looking for. These cards are made with high-quality paper and lamination for last for years. It comes with 150 cards inside it. These cards are divided into five categories, and each card has unique questions. If you are looking for one year dating anniversary gifts for him, try this unique card game to make him happy. This is one of the best one year anniversary gift ideas you can find.
10. Custom Photo Face Socks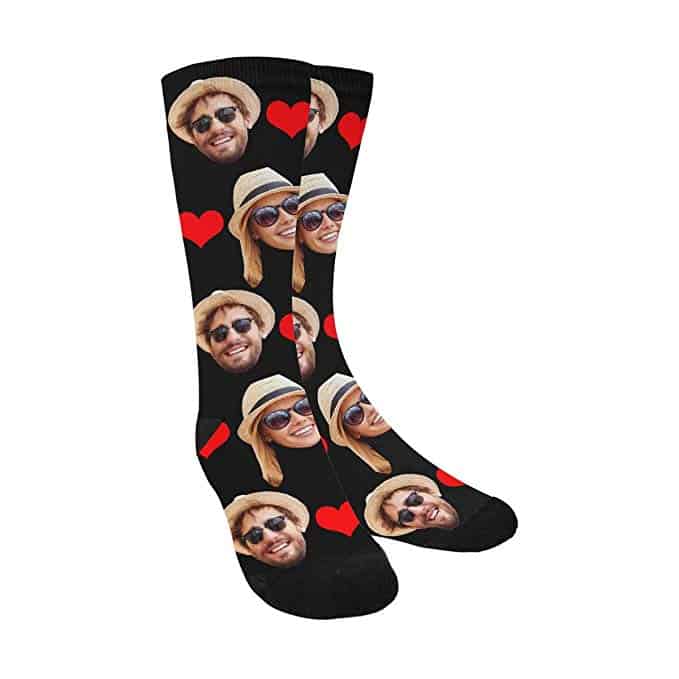 Tired of gifting old ordinary stuff? Looking for the best gift ideas? Are you a fan of customizing? These custom photo socks are for you. Made with high-quality polyester, these socks will give you maximum comfort and long-lasting life. You can customize your photo on these socks by just uploading your picture to the seller. You can also give this as your wedding anniversary gift.
They will do all the other stuff for you. With vibrant colors and quality printing, these socks are going to look unique from the other gifts you given before. Comes with the dimensions 15.35*3.54; these socks will fit most of the foot. For those seeking for creative one year anniversary gifts for boyfriend, these customizable socks are gem between the rocks for you.
11. Kisses 4 Us®
A sexy black box with 35 kisses cards and one idea book. Want to do some romance with those gifts? Kissed 4 us is a perfect gift to do some cuddles with your partner. The idea book is to help you to how to use the box of kisses 4 us. But it's your choice on how to use the box with your partner. At this, 30 kiss cards have the description of the kiss you need to do with your partner and have some facts about that kisses. The other 5 cards are your kiss cards; you can personalize them with your unique idea on kisses. This is going to be a romance, fun-filled game by using those kisses 4 us cards.
12. I Love You 3000 Lettering Engraved Cuff Bangle Key chain
"I love You 3000- Tony Stark."
No one will forget these words of iron man. Engraved the iron man figure and the wordings, it's going to the perfect gift for comic books and movie fans. If your man loves movies, then you should add this to your one year anniversary gift ideas in your list. Made on hypo-allergic stainless steel metal, this is going to be the ideal gift for your dating anniversary. The design was unique from the other jewels. Comes with a velvet bag, it's one of the simplest and unique gift ever you presented to him.
13. Fill-in-the-Blank Gift Journal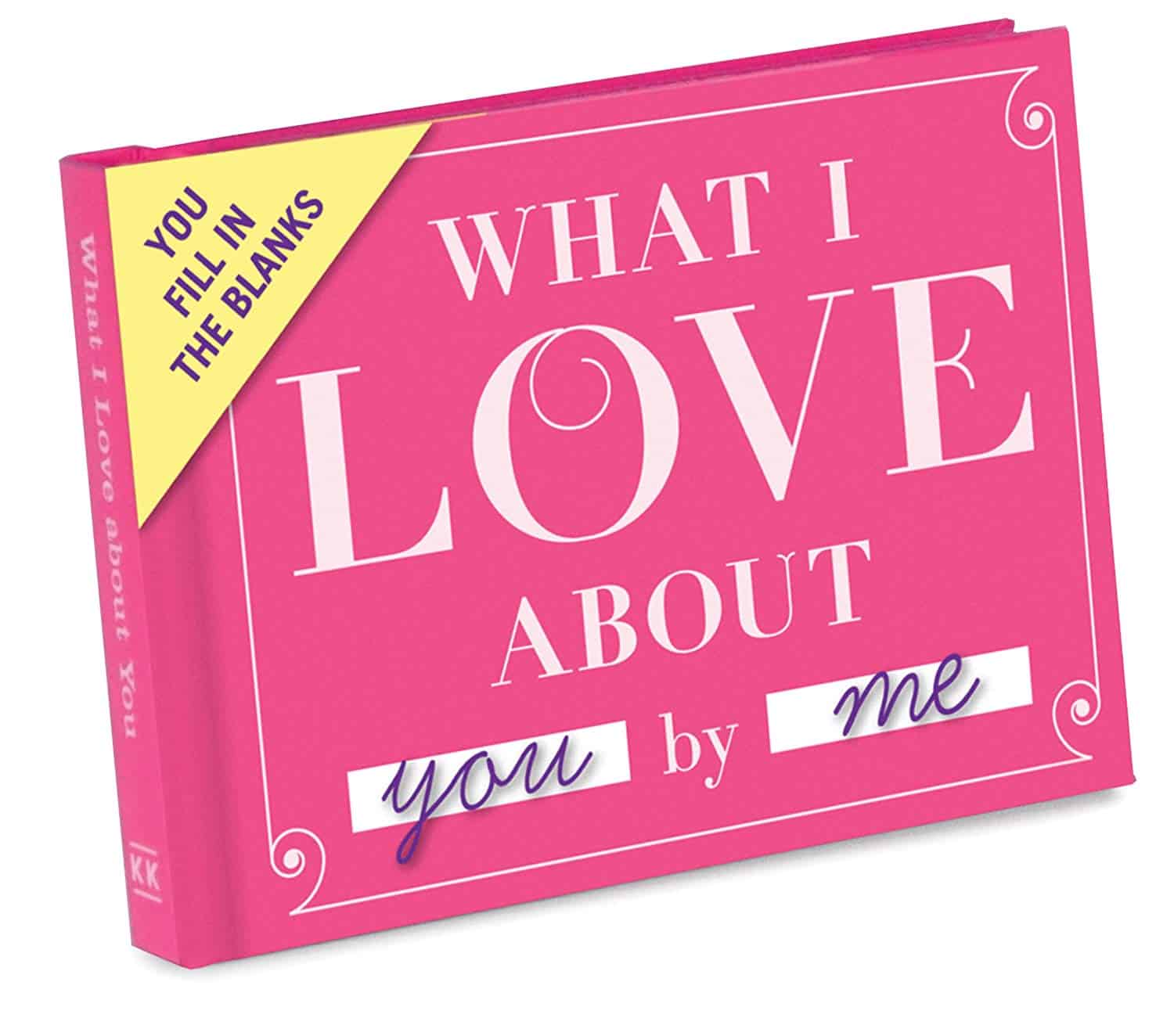 Fill in the blank gift journal gives you more freedom on your gift and unleash creativity. It's not simple paper anniversary gifts, but it's a very meaningful product. To fill the blank potions, you don't need to be a poet or a graduate in literature. Just share your feelings on words and fill them with love. It gives you a way to express your love and share your feelings with your boyfriend using this gift. Covered with a hard plastic jacket, this book comes to your hand with 0% damage on it. It feels more personnel to your boyfriend, while each time he reads it, he found a new aspect of your love. An adorable thing for the one year dating gifts for him.
14. Whiskey Stones Gift Set
What is the desire of a whiskey lover? Tired of using ice cubes that dilute your drinks and give an unwanted smell? Whiskey stones are the best way to keep their whiskey chill to the last sips. Made of basalt rocks, these stones are 100% healthier and tasteless. These stones can chill your drinks to the last round. The edges of the stones are sanded to avoid the scratches in your glasses. Comes with two glasses and stones, this Whiskey stones gift set is a memorable gift for your boyfriend.
15. Cold Beer Coats
Cold beer coats are going to the coolest gift ever you presented to your boyfriend. Covered by a jacket, it looks cool and keeps your beer cool as well. Made with nylon, cotton, aluminized paper, it's not that heavy to carry to anywhere. Clip this with your backpack or with the belt loop using a carabiner. It's going to be the creative one year anniversary gifts for boyfriend.
16. Romantic Candle Box
Made with paper and wood, the romantic candle box is the best-personalized gift ever you seen. Place the box near the wall in a dark room and see the magic. The personalized message will display on the wall. With 10*10*10 dimensions you can put it on anywhere of the house. You can customize the message carved on the box, color of the box, and the type of candle. By your wish, the seller provides candles with a different aroma. Gift it to your loved one for your dating anniversary.
The dating anniversary,
The ceremony which used to regain the beautiful memories of your first date. So your first dating anniversary is so special. Using perfect 1st year dating anniversary ideas, you can rock it. Present these unique one year anniversary gifts for him and show your infinite love with it.