Blog
5 Fun GIFT BAG Ideas For Adults
Let's be honest: Gift bag are still fun and exciting even when you're an adult. Whether you're giving out bags for a work event or a private party, there are plenty of ways to give them pop and personality. Try one of the combinations on this list. You're sure to be inspired for your next event! 
1.Craft Chocolate Assortment 
When searching for an epicurean crowd pleaser, there's nothing better than craft chocolate gift boxes. Elevate your grown-up goodie bags with delicious vegan chocolate and gourmet chocolate bars. The bold and colorful packaging on today's craft chocolate looks impressive as an assortment. You can also rest assured that they'll taste better than the usual grocery store options.
If you're searching for chocolatey inspiration, Some of our favorite gift boxes include dense and fudgy plant-based dark chocolate truffles. Responsibly sourced from Ghana, they have a rich cacao shell with wellness boosts like fiber and antioxidants. We also love to include fruit-forward vegan dark chocolate truffles and chocolate filled with tempting, wholesome ingredients like almond butter and sea salt.
When creating your bag, include a few options so everyone can eat something they love. You may even choose to have pairings to make their chocolate experience unforgettable. Complete your gift bag when you add a pack of roasted cacao nibs or drinking chocolate crumbles. 
2. Gourmet Chef Box  
Give something savory with a gourmet chef box! It's not exactly a bag but a boxed collection of treats for the cook. Each ingredient in this gift bag is themed to make wholesome and delicious meals or snacks. It's perfect for the foodie in your life or friends who like to DIY.
Find a sleek, neutral-colored box and include a few on-trend gifts. Entice the home cook with a set of gourmet sea salts infused with fresh blended peppers or vanilla extract. Vials of flavored olive oil are a sophisticated must-have for the kitchen. Infuse extra virgin olive oil with garden herbs like basil or rosemary. You can also flavor the EVOO with garlic or hot peppers.
Other excellent additions to a chef's gift bag include DIY spice kits and tiny jars of jam. Finish the kit with a mini set of measuring spoons or spreading knives. Finally, line the bottom of the chef box with a striped or plaid kitchen towel. The recipients will love the presentation but get even more of a kick out of exploring new recipes. It's a goodie bag and an experience. 
3.Spa Gift Bags  
Gift bags show your heartfelt appreciation. You'll communicate your thanks when you give a goodie bag for relaxation. Use lightweight drawstring bags or gift boxes in a calming color. Then, start your bag with a soothing lavender sachet. The sachet will set the mood by scenting the entire present. When they open the gift bag, they'll see spa-inspired gifts like roll-on essential oils and aromatherapy candles.
You can also include vegan soaps and travel-size facial masks or cleansing pads. Add on-the-go essentials like mini nail polish or a teeth whitening pen. No matter which combination you choose, your guests will feel pampered and honored when they receive your gift.
When creating a spa-inspired gift bag, take it from our experience and consider these tips. First, choose a well-loved scent like lavender or vetiver. This will help to ensure everyone enjoys your bag. Other popular choices for aromatherapy gift bags include lemon or peppermint. You can even try lemongrass or cedarwood. Remember to pick diluted essential oils found to be safe enough for children and adults. This will help to ensure the products are a comfortable experience for everyone, regardless of if they have sensitive noses or skin. Finish the kit with a loofah or sea sponge.
4.Carnival-Inspired Souvenirs 
Some occasions call for a fun and playful gift bag. Carnival-inspired gifts will make every adult feel like they're a kid again. These goodie bags are perfect for an outdoor party or a team-building exercise. They're also affordable and easy to make.
Start this eclectic souvenir with a circus-themed box or a celebration bag. Next, add tasty selections fit for the fair. These bags don't call for a soggy funnel cake or corn dog! Instead, you're free to choose from wholesome yet tasty snacks that stay fresh, like candied almonds or pecans. You could also include little bags of popcorn or DIY popcorn kits.
After you pack the goodies, include some swag worthy of a carnival prize. Our most inspired fair ideas include keychain stuffed animals and temporary tattoos. Create a one-of-a-kind bag with mini prisms or pinwheels.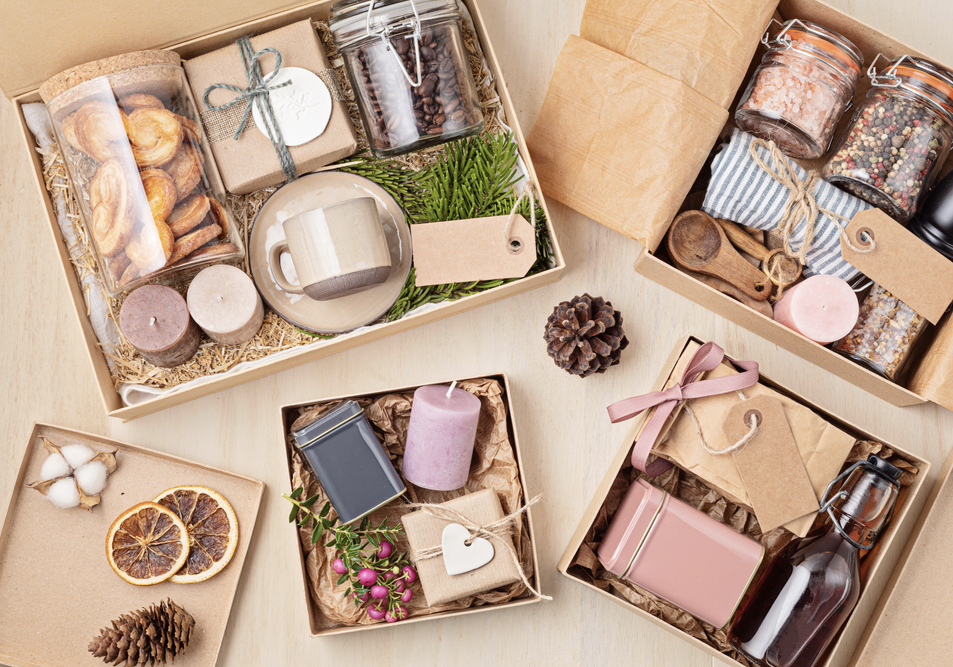 5.Personalized Name Bags 
Perhaps you have a small group or want to make someone feel extra special. In this case, you can choose to personalize your gift bags. For something that truly stands out, go with a canvas tote bag or a straw beach bag. Include the person's name or initials across the side of the pack. You can add logos or another custom print for a more individualized feel.
If you're searching for a casual-style bag, you can customize everything from grocery totes to drawstring backpacks. Creating a cute custom gift for an afternoon athletic group or a bridal party is easy. Choose your color and design, and then fill the bag with posh personalized treats. Add a few delightful items like a travel-size perfume or a beautiful plant wrapped in a burlap bag.
Other cute ideas for adult goodie bags include gourmet tea sachets or a stylish pair of lightweight sunglasses. These personalized assortments make the person feel like a guest of honor. Include a personalized note for an exceptional finish.
Designing a One-of-a-Kind Gift Bag
With these goodie bag ideas, you're sure to create something you love. Use our themes or design a bag with a combination of these items. Take some time to curate your collection, and you'll create an unforgettable gift!