Blog
20 Best Romantic Anniversary Gifts Ideas for Her 2021
Your wife/girlfriend/fiancé/partner is the second girl who took care of you after your mother and sister. They show their valuable love toward you infinitely all those years after the wedding. Through the years and years, she took her love and special care for you and for the family. If you want to do something to repay them, your love is the only thing that can be given in return, show your love in different kind of ways. Gifts are one of the best ways to show your love. If you are looking for the best anniversary gifts for her ideas, here we got some romantic suggestions for you.
The suggestions we have given below, some of them can be personalized, especially for your lady. The gifts below can be customized, engraved, and romantic, and make her feel special. Get ready fellas, there are 20 romantic gift ideas for her on anniversary. If you are looking for men, there is our 20 romantic anniversary gifts for him.
20 Romantic Anniversary Gift Ideas for Her
1. Bisque Porcelain Figurine
Gift Details
Made with Bisque porcelain, these dolls are entirely hand-painted figure was 5 inches high, that can be placeable anywhere you want.
Why You Can Gift It?
Because of made with bisque porcelain, it long last as your love. It comes with the engraved numbers 10, which indicates the 10 years of your life that you live together. This toy has the look of two join hands and looks into each other eyes that resemble your relationship, and it can be the perfect anniversary gifts for her 10 years.
2. Topaz Amethyst Pendant Necklace
Gift Details
The chain was made with 925 sterling silver with an 18k white gold plated surface, the chain even looks elegant. The pendant was made with a high-quality natural topaz gemstone with small sympathetic cubic zirconia that gave it a luxury look.
Why We Can Gift It?
Women always love jewels, so it can be turned into the favorite gift of her ever you presented. It didn't cost that much but has a luxuriously elegant look that can attract anyone. One of the excellent ideas for anniversary gifts for her.
3. Custom Portraits
Gift Details
Entirely made with wood, this portrait can be customized with any photo and wordings you want. The printing quality was high, so it didn't vanish at that ease.
Why You Can Gift It?
This custom portrait can be personalized with her photo, name, and the message you want. This made her feels so personal, and the gift was only made for her. One of the good anniversary gifts for her.
4. Monogrammed leather watch Personalized
Gift Details
This elegant watch made with bronze and other materials, and the band was made with pure leather. It can be customized with your favorite alphabetic letter. The watch comes with multiple color options.
Why You Can Gift It?
This watch has an Italian look that can steal your women's love. The customization is another key feature; you can customize your personal letter with it. She can wear it to anywhere she wants and holds your love with that gift.
5. Silk Kimono Short Robes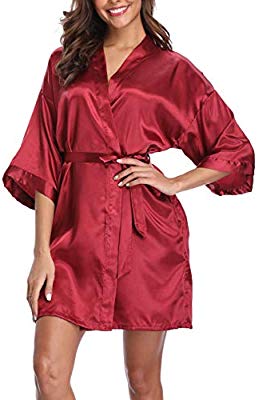 Gift Details
The imitation silk gives a soft touch of fabric. This short robe comes with multiple colors. It has two pockets and a belt loop, and this product comes in various sizes.
Why You Can Gift It?
Clothes are always personnel gifts ever you can give. This short robe can make your girlfriend or partner feel the comforts, a perfect gift for her.
6. Happy 25th Wedding Anniversary Hanging Ornament
Gift Details
This ornament made with china porcelain and has a gold ribbon to hang it. It can be hangable anywhere. The letters are engraved in gold color and visible from anywhere. It has the engraved message "25 anniversary" so that it can be gifted for the 25th anniversary. Decorated with red jewels, it looks elegant.
Why You Can Gift It?
The ornament can be hangable anywhere, so every time you while witnessing it, she remains of you and those 25 past years with you. A perfect gift for the 35th anniversary for her.
7. Set of 2 Iron Roses Twisted Together
Gift Details
The roses made with iron, the two roses twisted together. It was 30 cm long and has an adorable bouquet look.
Why You Can Gift It?
Rose is the iconic identification of love, and these metal roses bouquet can be long last for years. This bouquet can be placeable anywhere in the horizontal position. You can place it anywhere on a table or a shelf. One of the perfect anniversary gifts ideas for her.
8. Scented Candles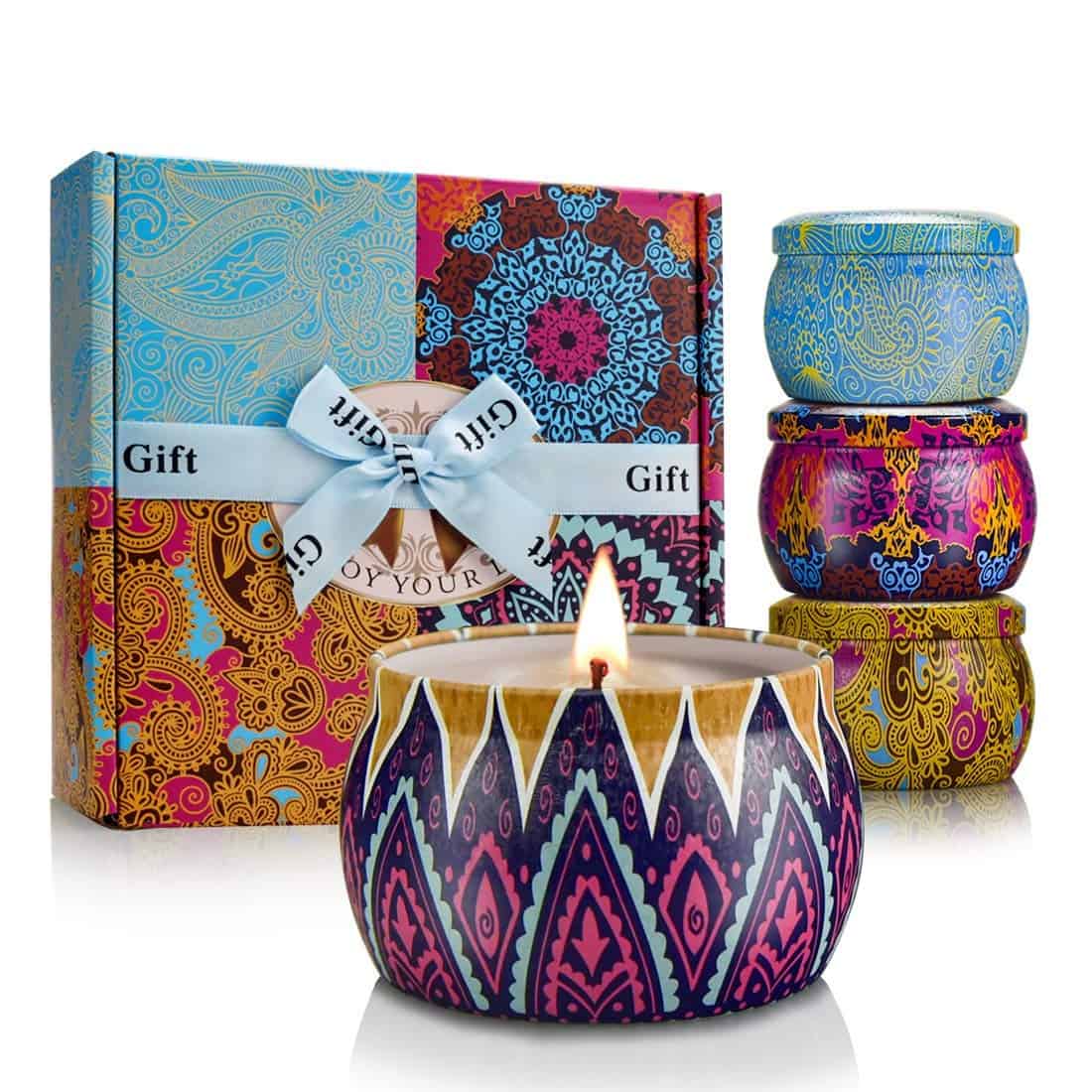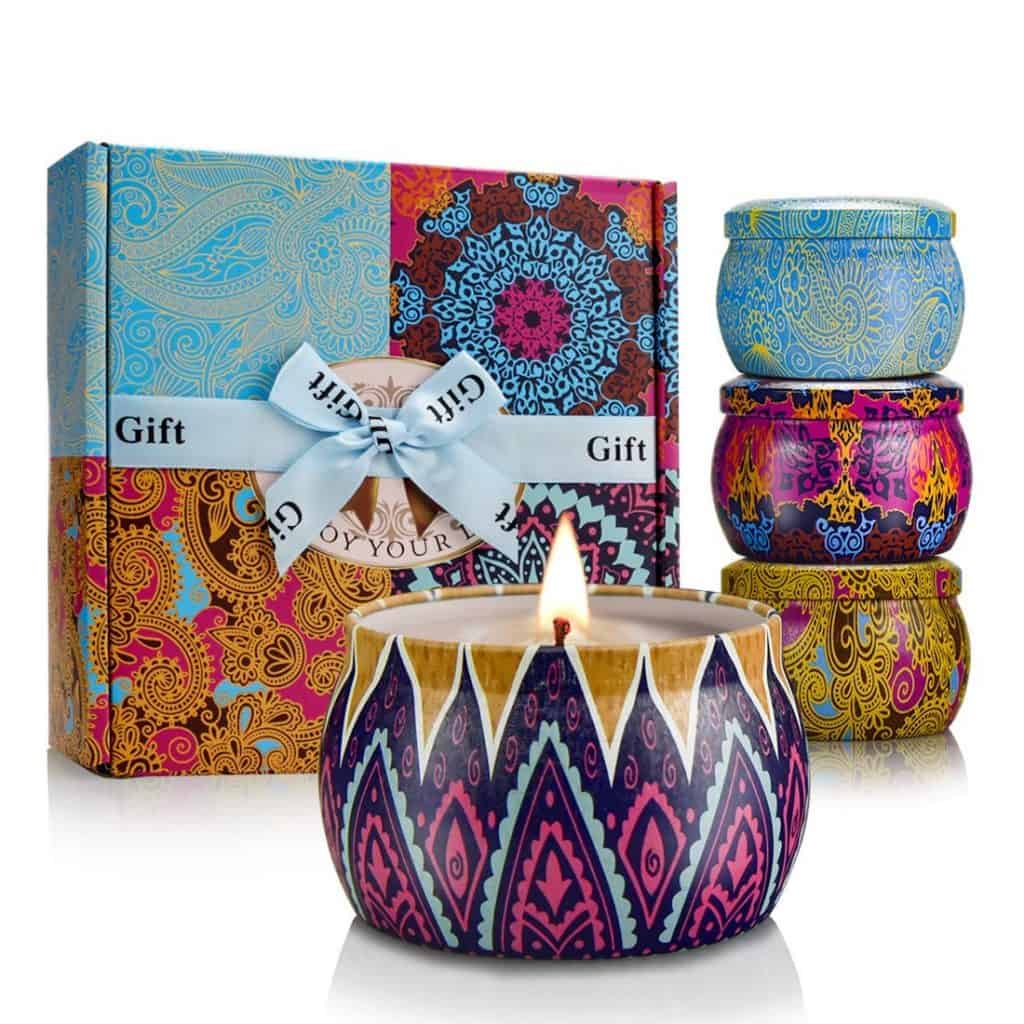 Gift Details
This candle was made with soy wax, and it didn't produce black smoke while burning. It comes with 4 different fragments of freesia, lavender, rosemary, and French vanilla and a cleaner with it.
Why You Can Gift It?
Everyone loves a pleasant aroma around us. These candles can bring the smell, and that can set the mood to be happy. It can make a romantic feel for the candlelight dinner. A unique gift for the anniversary.
9. Wishing Ball
Gift Details
This wishing ball made with hand-blown glasses and paper. The measurements are 5*4.5 diameter, and each paper within it are 1″l*3'w. One ball contains 52 papers with messages.
Why You Can Gift It?
The ball contains 52 unique messages, and if she reads each message for a week, she can read your love messages all over the next year. This ball is a unique gift you ever presented to your spouse. A memorable Anniversary Gifts Ideas for Her.
10. Custom wooden signs
Gift Details
Carved on quality wood, the signs are engraved with UV ink and acrylic paint. The wooden signs available 2 sizes. From the sizes 8*11.5 and 11*15.5, you can select which size you want. Wishes and messages can be personalized.
Why this is a Best Anniversary Gifts Idea?
The wishes craved on the wood were permanent, and each time while see witness it, she can feel your love. A memorable gift ever you can gift to her. The personalization offers you a chance to express your feelings using your gift. It can be given for any anniversary. One of the good Anniversary Gifts Ideas for Her you can present.
11. Ceramic tea set Cats
Gift Details
This tea set is a product of ceramic, entirely hand-made. The teapot capacity is 1000 ml, and the mug's capacity is 180-200 ml. The colors are entirely hand-painted.
Why You Can Gift It?
The teapot is the best gift for the tea lover. The pot and mugs look so adorable with the hand-painted cats. This pot and mugs are some of the unique ideas for anniversary gifts for her.
12. Da Vinci Code Mini Cryptex
Gift Details
This mini cryptex is 14 cm long, and the hidden compartment measures 8*2.5 cm. You can hide your special message or jewel within it and gift it. You need a password to open it.
Why You Can Gift It?
This cryptex is one of the creative gifts ever you can give. The use of the gift depends upon your thoughts and creativity. A unique gift for your most loved people.
13. Folded Book Art
Gift Details
Initially, patience was the primary material used to craft the book art. Using a hard covered book, they fold the pages and personalize the characters you want. The characters need to be lowercase, and they come with a heart between them.
Why You Can Gift It?
It was the best personalized decorative item for an anniversary. It can be placeable anywhere as a decorative item and looks more unique. The best anniversary gifts for her ideas.
14. Engraved Spoon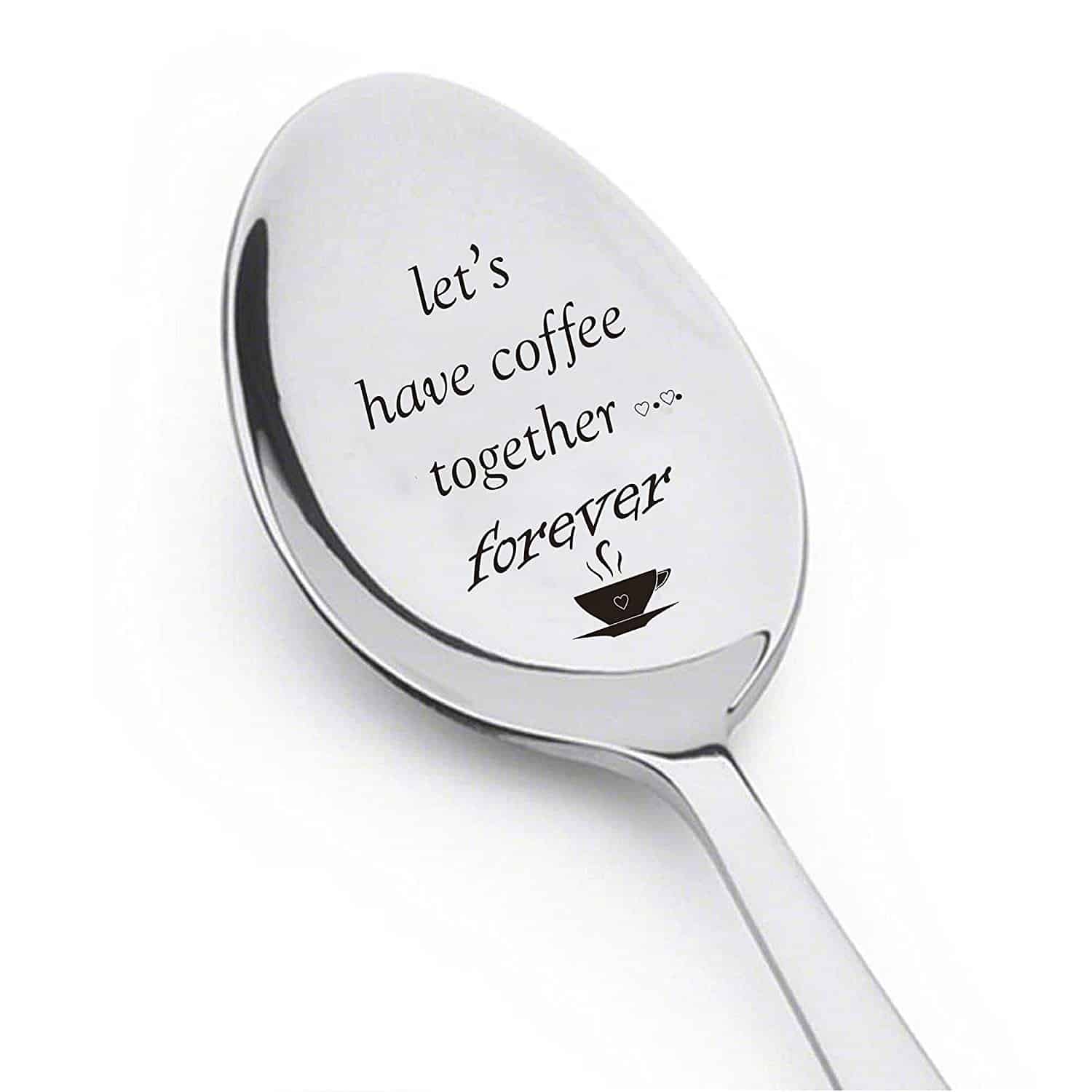 Gift Details
The spoon was made with stainless steel. It engraved with the message
"Let's have coffee together forever."
The spoon length was 7 inches.
Why You Can Gift It?
It's a simple gift, but it can say the message "be together" for you. This spoon will remind you every time using the spoon in a teatime, cooking. This is a wonderful gift ideas for her on anniversary to give.
15. Preserved Flower Rose
Gift Details
Features a fresh flower within a metal box, this flower is not going to die at that ease. Comes with blue, purple, red, and pink color each has a very unique meaning.
Why You Can Gift It?
The flower was not going to die as like your love. The flower preserved within the box-like her love on your heart. These flowers can be the perfect representation of your love. Gift such things for her this anniversary.
16. Wooden Handmade Abstract Sculpture Statue
Gift Details
Carved in suar wood, the quality of the sculpture statue was impressive. The bodies in the statue twirl together and form a beautiful heart inside it.
Why You Can Gift It?
The statue gives a glimpse of love, and it can be used as a decorative item. Its unique look was eye-catching; no one can leave your house without noticing it. A perfect gift for your girlfriend/spouse. It can be giftable for any function you are seeking for a gift, such as anniversary gifts for her 10 years.
17. White Opal Pendant
Gift Details
The necklace has hand-made white opal, precious wood, and resin, and the pendant comes with variable sizes. The necklace was made with silver plated snake chain, 1mm lobster clasp. Each piece of the necklace was crafted by the hands of professionals.
Why You Can Gift It?
Jewels always had a special place in women's hearts. The necklace was looking stunning and adorable. With a unique look, this necklace can catch everyone's eye. She is definitely going to love that piece of beauty on her neck. One of the best anniversary gift ideas for her to give.
18. Engraved Lantern Warmer
Gift Details
This lantern warmer can bring a warm tone and pleasant aroma to your home. You just need to place the wax tarts or essential oil in the removable tray. It uses a 24-watt bulb to bring light and produce heat to melt the wax. It can turn your room into an elegant spa.
Why It's a Best Anniversary Gift idea?
The message engraved on the lantern,
"What I love most about my house is who I share it with."
The message directly mentioning her expresses how much you love to live with her. A good anniversary gifts for her.
19. Custom Photo Engraved on Real Leather Photo Frame
Gift Details
In real leather, your photo was entirely hand-drawn by professionals using pyrography. The frame was made with woods. You can choose the size and orientation of your portrait, and Your photo can be customized as you want in your picture.
Why You Can Gift It?
Customized portraits are always memorable gifts. This unique leather engraved portrait is ready to hang on the wall with your memories. It was an artistic and romantic, personnel gift ever you can give. A memorable anniversary gift you can present.
20. Engraved Music Box
Gift Details
Made on real wood, this music box's built quality is perfect. It sings well, cheap, and worth for money.
Why you can Gift It?
The music box was specially made for wives. The engraved message on the box,
"To my gorgeous wife, I loved you then I love you still. Always have, always will."
The special message for your wife can make her feel special. A good anniversary gift for her ideas.
Anniversary,
An event conducted to regain the memories and share your love with your partner. For that event, everyone plans to gift unique. For those seeking something unique, there are 20 romantic anniversary gifts for her ideas.