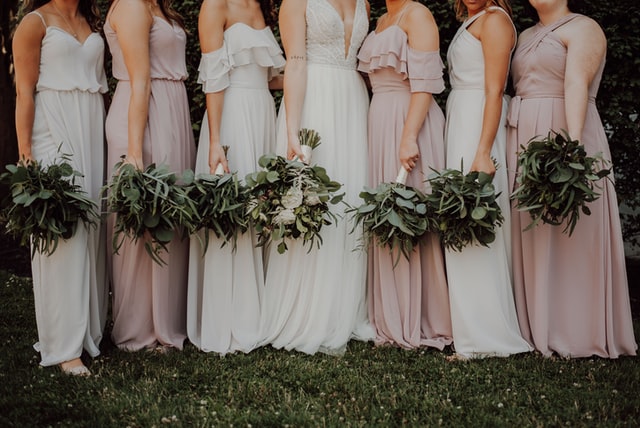 Bridesmaids are the most special crew a bride could ever ask! The team consists of her close friends and sisters who know the most intimate details, from the engagement to the bachelorette to the impending nuptials. They are the girls who have been with you every step of your wedding planning process. They will plan the most fun, and let us say a wild bachelorette for you (wink-wink). They will be your cheerleaders when you walk down the aisle. Your team of bridesmaids has been a part of your most precious memories, and having them by your side at your wedding would be magical. 
Your bridesmaids deserve a token of appreciation, and what better way to do it than to shower them with some goodies and experiences that they will cherish forever. Going that extra mile and showing them that you value their friendship will make their hearts swell with love. 
Let us explore gift options that you can shower your bridesmaids.
Customized Pajama sets
Fun pajamas with customized initials are a smart gift option for your bridesmaids. Get yourself a customized bride-to-be pajama set and plan a fun-filled pajama party with buckets of popcorn, a rom-com movie marathon, and loads of laughter.
 A Goodies Hamper
You can get a box full of goodies delivered to your bridesmaids, valuing their presence. It can have an assortment of handmade chocolates, a miniature bottle of champagne, a bridesmaids wine tumbler with their names embellished on it, and a personalized hand-written note by you.
Candles and More 
Who does not love a delightful aromatic experience? Gift your brides a candle jar with their names inscribed on it. You can pick from various fragrances ranging from sweet pea, lemongrass, rose, and many more. Pair a beautiful photo frame with your favorite picture together, and this gift set will certainly make them go ga-ga.
Salon and Spa Sessions
Spoiling your bridesmaids with a day full of massages, mani-pedis, hair blowout, and skin treatments will make them each feel like a princess. Plan a spa and salon day for all of you together with some nutritious food and refreshments. Experience a full day of pampering with your bridesmaids and feel rejuvenated.
Cute little things
Curate a collection of handcrafted products that weave your web of love in it. A small earthen ring dish with pressed leaves or flowers and your wedding date subtly embossed on the rim, a compact mirror to carry around in their clutches for last-minute touch-ups, a pair of monogrammed white mugs in rose gold, the options are endless. Personalized gifts are always welcomed and loved by everyone. 
Workshops 
You can have a fun tye&dye workshop organized for your bridesmaids and make cute little totes and tees that will be handmade by each of you. Get a photographer to capture these moments of fun and togetherness so that you can cherish them for years to come.
Necklaces
Get each of your bridesmaids a necklace with their names engraved on the pendant. You can also plan and replicate their handwriting to add that extra special touch. They can use these forever and are a fantastic way to express your gratefulness to them.
Customized Clutches 
Hard-box clutches in soft-pastel hues with the name of your bridesmaids intricately engraved in gold or soft clutches made in vegan leather with their initials hand-embroidered on them. These clutches will make for a thoughtful gift for your lovely gang of bridesmaids.
A Curated Vanity Kit
Put together skincare and haircare essentials as per each of your bridesmaid's individual needs. Be sure that they will bless you every time they use the products. A rose quartz jade roller, cheek and lip tint, a relaxing mask for their tired feet, bath salt, face and hair masks, a lovely bottle of soft smelling body mist, a tube of hand cream, and much more. These will add a natural glow to their beautiful faces and bring a heartwarming smile if they are having a dull day.
Sleepwear 
Personalize a set of cute satin shorts, top, and robes in a dusty rose shade with a matching eye mask to go with it. Personalize each bridesmaid's sets with their initials on the nightwear outfits and the front of the eye-masks.
Conclusion
There are numerous other gifting options in the market that you can put together for your bridesmaids to express your love and gratitude for them. You and your bridesmaids deserve all the love and appreciation. A mix of pampering and just being there for each other in the good and bad times goes a long way!