Congratulations on your wedding! Now that you've moved in together, you might be wondering: just what do we do about this bathroom? Which towels should we buy? Where do we place the towels? If you have no clue about these questions, then you should check our Bathroom Remodel Tips below.
Bathtub or shower? How do we customize the lighting?
Should we shop together? Which shower heads are the best for us, and how much will they cost us?
Take a deep breath and go through these few tips on how to remodel your bathroom… together.
Bathroom Remodel Tips
1. The Towel Dilemma
Shopping for bathroom towels can get tedious if your primary focus is on how it looks in your bathroom. This might bring conflict because of the high possibility that it might not be comfortable for your partner, however suitable it seems. There are some things to consider before throwing in the towel.
Towel size
A standard after-bath drying towel is around 27 inches by 52 inches, while a bath sheet is about 35 inches by 60 inches. Hand towels are sized at 16 inches by 30 inches, whereas washcloths are 13 inches by 13 inches.
Cotton
The choice can range from standard cotton for everyday towels to luxurious Turkish cotton made for comfort.
Weight
Finding the perfect balance between quick-drying towels and thick and absorbent options can be tricky as both have their benefits. Quick-drying towels are ideal for the beach, while thick and absorbent might be better in homes. If you can find an option that fits both categories, then go for it.
Color and Style
Towels can play the role of "bathroom decor" when carefully color-coded. Pick a towel that matches the bathroom's theme, the season, or white towels if you feel a little color-blind.
2. Lights, Camera… Nope, Just Lights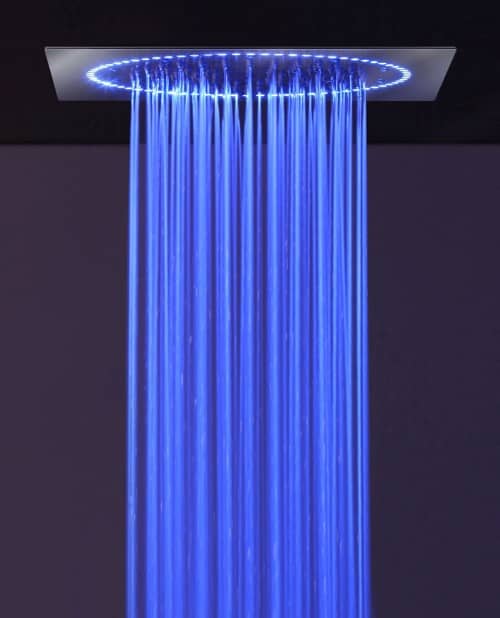 There are several considerations when it comes to bathroom lighting. Let's discuss some of them, based on the section of the bathroom.
The vanity mirror.
Self-care is an essential part of our lives, and the wall mirror plays a significant role in this. Lighting the vanity mirror has a variety of options. Whether it is a pair of sconces on the side,  a sconce above the mirror, a background strip light such as the elstar Led strip, a chandelier above the mirror, or any other creative idea.
The shower area
Your shower area needs to have ample lighting for an apparent reason; you need to see yourself clean yourself. You should consider factors such as the natural light, the color and theme of your bathroom, and the mood you want to achieve in your design. Ideally, darker shower themes need more lighting compared to well-lit bathrooms.
The bathtub
The bathtub placement is vital in deciding how to light your bathroom. One can opt for placing it next to the window to take advantage of the natural light or carefully placing the bathroom lights such that the bathtub receives adequate attention.
The toilet
This section relies on the general bathroom light but should receive enough attention as it is a place where we spend a lot more time than we'd like to admit.
Bathroom lighting should cater to safety, mood, and the theme you wish to achieve.
3. The Showerhead Complexity
The showerhead dilemma is something that is probably very underrated. People do little to no research on showerheads. When they eventually visit a retail shop, they quickly realize that they should have done their research. Let's break the showerhead needs down into a few elements:
Type
There are three types of showerheads. The hand-held showerhead(preferred by older people), the side-mounted showerhead, and the ceiling/rain showerhead. You can install the hand-held showerhead with both of the other two options in cases where your preferences differ.
Aesthetics
How a showerhead looks based on the lighting, theme, and other elements of your bathroom. You should pick a showerhead that you both like.
Pressure
The higher the pressure, the more the amount of water used. Pick a showerhead that'll not frustrate your water bill.
Energy Consumption
This is dependent on the pressure produced by the shower. More pressure, more energy consumption, and a higher bill. Be keen on financial plans.
Spray
This is the intensity and pattern that the nozzles spray water. You can play around with the showerhead settings from wide(same spray pattern for all nozzles), targeted(harder spray and from several nozzles), rinse(central nozzles spray water), all the way to pulsating(alternating spray changes).
4. Bathtub vs. Shower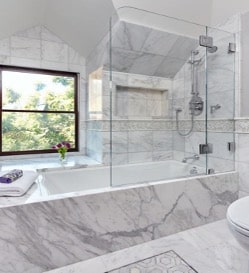 Choosing between the bathtub and shower will be determined by how many bathrooms exist in your house. For houses that only have one bathroom, consider keeping the bathtub if you have visitors who have children or even have(or plan to have) children yourselves.
Now, if your house has multiple bathrooms, there are few things to consider when choosing.
House resale
Later on, if you decide to resell your house, a critical factor determining how fast you get buyers is the bathrooms. Your bathroom should appeal to as many buyers as possible for easier resale.
Shower or bath
When it comes to time spent in the bathroom, if both of you are quick in quick out kind of people, consider the showerhead option. If you have the time to take a long bath, the bathtub is a fantastic choice. If your answer is "it depends," then consider installing both options.
5. Shower Doors
The shower doors you use are dependent upon how many people have access to the bathroom. Assuming you have an extensive household sharing one bathroom, then consider using shower curtains or opaque shower doors for privacy.
In a case where there are multiple bathrooms, use shower curtains or opaque shower glass for the guest bathroom and the one shared by more than one person. For the master bath, you have a wide selection of shower doors to choose from, depending on how intimate you'd like your bathroom to be.
6. Financing It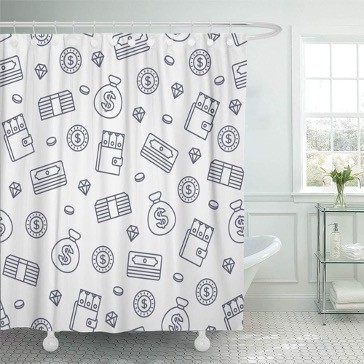 The big bad wolf, "how do we finance all this?".
Finance can limit the options you have for decorating your shower but should not kill your creativity.
For each element of your bathroom, find the best deals available in the market. You can also consider cheaper temporary options for things such as towels and showerheads.
When it comes to tiling, you're better off choosing the best option you can afford to avoid the cost of changing the tiles.
7. Tiles
Yes, it is a nightmare choosing bathroom tiling for your home.
There are a few questions to ask yourself before making this choice.
Cost
How many options can we afford? And if we choose one, will it need renovations in a few years?
House resale
How appealing will the house be to buyers?
Cleaning
How often will you clean the bathroom? And how good of a job can you do?
Staining
How likely you, your children, and your pet(s) are to stain your bathroom walls and floor.
Conclusion
The information provided is designed to give newlyweds an insight into renovating your bath/shower room.
Elements such as lighting, showerhead, shower doors, tiles, a bathtub, or a shower, are all dependent on the finances available, the will to listen to your partner's ideas, and the patience to agree with them.
Good luck with the renovation, and even better luck with your marriage.