Blog
Trending
Gender Reveal Ideas: Fun and Unique Ideas to Shock Everyone
Have you ever heard the word "Gender Reveal" in earlier years? I'm sure, you haven't, because it was not a thing before. But the day when gender reveal became popular and since then NO stopping! Rather, it gained more popularity. Now first, let's understand what's the meaning of " Gender Reveal ". Well, gender reveal is just a public announcement or a disclosure that reveals the gender of an unborn child with your family, friends and near-dear ones by the expectant parents-to-be. Such a special moment for soon-to-be parents, right? With the increasing popularity of this trend, and of course with the help of advanced medical, parents can easily find out the gender of their future child. Famous female influencers like to share everything regarding their pregnancy, be it baby bump, flaunts flawlessly! And so, this moment of joy can be grandly celebrated as an occasion too. Regardless of this, some parents want to keep things private and happy, and so don't want to share with everyone. It's completely one's choice. But, if some want to share such exciting news with everyone knowing in their circle, then I've got 7 amazing and unique ideas for a gender reveal party:
Selection of Shades — Pink / Blue:

Yes! The easiest and best idea to begin a Gender Reveal party is with a shade selection, blue or pink. As we all know, blue is for boys and pink for girls. To create an aesthetic theme, you can choose peach and teal, for a more appealing look. And try to arrange some yummy sweet treats like cakes, candies, cupcakes etc. in the same shades. And, make sure to cover the cake with different shades of frosting or toppings. Such a cost-effective idea, right? As, later on, sweet treats would be served to guests.
Poll Game for Gender Reveal :

This is a poll game, in which all the guests can participate. Each guest just has to vote, either for a boy or a girl, while entering the party. After coming all guests, and parents will check for all votes, and those who voted maximum may be given a small prize by the parents if they wish to. And in this manner, the gender would be revealed of their unborn baby. So fun and nice!
Name Guess:

Such a brainstorming idea and parents would also get some help with their baby names. So what parents have to do is, gradually when each guest arrives, ask each one of them to guess whether the gender is HE / SHE by writing the baby's name on a piece of paper. Suppose, if one of them guessed for a boy, then he would suggest for boy's name on that slip. After completing this task, read out all the names before disclosing the gender. Bang on! And those who guessed right may be given a small gift of appreciation by the parents.
Colors and Confettis:

Is there any occasion which can be celebrated without confetti? Well, I can't think of any. Cannons with blue or pink confetti are an easy and great way for a fun, creative and colourful gender reveal. Just shoot the cannon towards the sky, in the large outdoor area where a huge gathering is there. Super fun right? Colors and confetti!
Carnival Theme:

This fun and unique theme can be organised outdoors. As we all know, the carnival is all about colours that are too loud like, blood red, fuchsia etc. and all things bright and happy. And, to get that carnival feel, don't forget to add toy Ferris wheel! Then you can add the games of a carnival theme even like shooting balloons etc. Lastly, enjoy the carnival themed snacks in your party like popcorn, cotton candy and more! And, there you uniquely reveal your child's gender.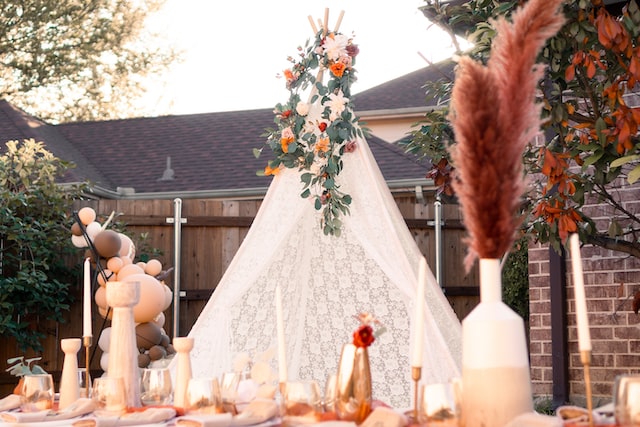 Bohemian Idea:

The Boho theme idea is unique and different in its way. It will consist of fresh, earthy and warm shades which will also look minimal yet chic. Try decorating the venue with all things boho like white, beige, and brown to create that look. Use macrame items and pampas grass in a vase for that boho decor. And, gender is revealed in style!
Fancy Gender Reveal Christmas party Theme:

If parents want to reveal their gender on the day of the festival, then what is better than Christmas? It is the best occasion for the double celebration. One is for Christmas celebration and, the other is for gender disclosure! Just pick some pink and blue gifts and lights to decorate the tree, and switch off the lights when guests are about to arrive. After the arrival of all guests, switch on the lights with either pink or blue, and there you can creatively and in a festive feel, reveal the gender.